This half term, we will start by reading the wonderful adventure story 'Traction Man'. This is a book written by award winning author, Mini Grey and is wonderfully illustrated. It is an exciting story about a hero with an action outfit for every occasion!
"With an action outfit for every occasion, he patrols the house saving toys, guarding toast, searching for lost wrecks and rescuing damsels in distress. Our hero is ready for anything... or is he?"
The children will learn to write an opinion of the setting and compare the story to others. Through drama they will expand their verb vocabulary by acting out Traction Man's adventures...
As well as this, they will also learn how to:
use prepositional phrases,

adjectives for description,

expanded noun phrases.
Year 3 will also be reading 'The Tear Thief', a dreamy and poetic story written by the Poet Laureate, Carol Ann Duffy which was shortlisted for the Red House Children's Book Award.
Have you heard about the tear thief? Every evening, she moves soundlessly about the town in her silk slippers, collecting children's tears and popping them into her silvery sack. No one can see her,because her reflection is only visible in puddles, but wherever she goes, she works a special kind of magic, and the child she is visiting has no need to cry anymore...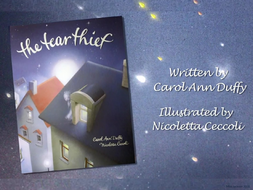 Whilst reading the book, the children will :
share their predictions,

write setting descriptions using expanded noun phrases and prepositions for detail,

create their own similar characters,

use speech between two characters,

write a personal recount in role as a character,

draw pictures of the characters and much, much more!